Basic offering suited for photographers and filmmakers just starting to explore color.
Advanced integrations included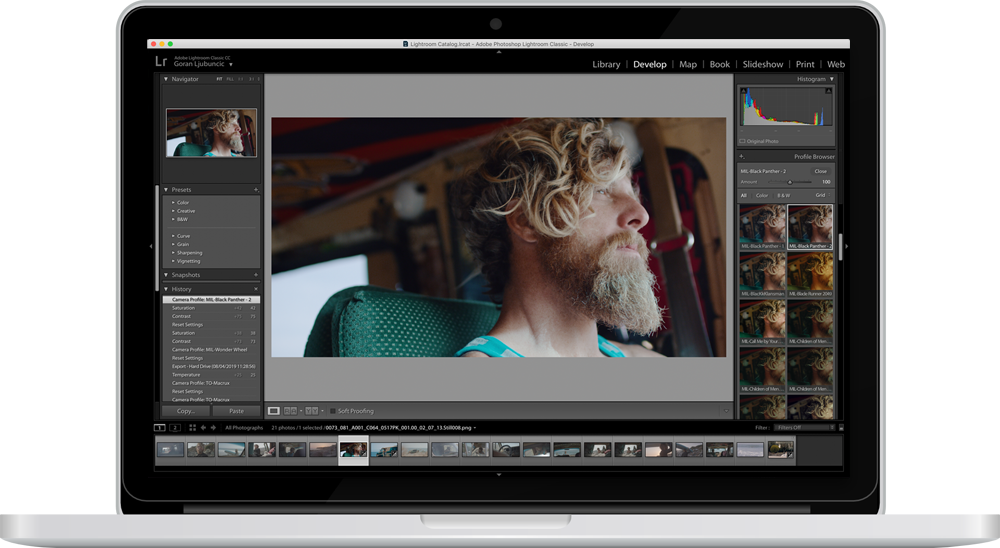 The easiest way to preview LUTs. Included.
The easiest and fastest way to preview LUTs is here. Cut through the clutter, increase your productivity and speed-up your turnaround. Included with your subscription.
Your subscription can be cancelled at anytime after purchase. Once cancelled, your license will not renew automatically and will expire on the expiration date. Once expired, you will no longer be able to use LUTs Previewer, receive updates for the 3D LUTs in your package or have access to support. You may manually renew your license at any time to reactivate your subscription.
Works equally well for photos and videos
The color science behind our LUTs has been meticulously tweaked so it will work equally well for both your photos and videos. Match the color easily for a more complete result for your clients.
LUTs shipping in the package
CBG-Dabit
CBG-Daquila
CBG-Darnir
CBG-Daroli
CBG-Daxter
CBG-Dectra
CBG-Delnath
CBG-Delphinus
CBG-Deneb
CBG-Derrai
CBG-Dhertan
CBG-Diadem
CBG-Diadex
CBG-Diphda
CBG-Dnoces
CBG-Dornier
CBG-Dubhe
CBG-Dubnex
CBG-Dur
CBG-Durbhan
AP-Alchiba
AP-Alcor
AP-Aldib
AP-Acrux
AP-Adhil
AP-Alamak
AP-Alaraph
AP-Albireo
AP-2-Strip Process
AP-Acamar
AP-Achernar
AP-Achrid
AP-Acrab
AP-Acubens
AP-Adhara
AP-Alcyone
CL-Caph
CL-Cebelrai
CL-Cervantes
CL-Chertan
CL-Copernicus
CL-Calioth
CL-Calyra
CL-Cancri
CL-Canes
CL-Canopus
CL-Canum
CL-Capella
CL-Cara
CL-Carina
CL-Caroli
CL-Cassiopeia
CL-Castor
CL-Caten
CL-Catria
CL-Caurus
CL-Celaeno
CL-Celrakis
CL-Ceonis
CL-Cescella
CL-Cesterion
CL-Cesterope
CL-Chalawan
CL-Chara
CL-Chiarra
CL-Chort
CL-Chow
CL-Cor
CL-Corso
CL-Cunda
CL-Cursa
VF-Sceptrum
VF-Segasi
VF-Segin
VF-Sheratan
VF-Solaris
VF-Sadatoni
VF-Saiph
VF-Sargas
VF-Savi
VF-Schedar
VF-Scopius
VF-Seginus
VF-Sembus
VF-Sham
VF-Sheliak
VF-Simbus
VF-Sinistra
VF-Sirius
VF-Skat
VF-Solbus
VF-Sollux
VF-Sorealis
VF-Spica
VF-Sterope
VF-Sualocin
VF-Subra
VF-Syrma
IF-Giedi
IF-Gomesia
IF-Gorgon
IF-Gienah
IF-Girtab
IF-Greux
IF-Grumium
IF-Gacrux
IF-Garnet
IF-Gatria
IF-Gemma
IF-Gianfar
IF-Graffias
CCF-Heltic
CCF-Hoedus
CCF-Hydra
CCF-Hydrobius
CCF-Hydrus
CCF-Haedus
CCF-Haldus
CCF-Haskela
CCF-Hasterion
CCF-Hersei
CCF-Hessex
CCF-Hyadum
CCF-Hydrae
CCF-Hadar
CCF-Halcor
CCF-Hassel
CCF-Heka
CCF-Helano
CCF-Helvetios
CCF-Heonis
CCF-Heze
CCF-Hizar
CCF-Homam
CCF-Hydri
BW-Baham
BW-Beid
BW-Belium
BW-Bactor
BW-Banax
BW-Baten
BW-Benet
BW-Botein
BW-Brachium
BW-Baitos
BW-Balcor
BW-Bellatrix
BW-Betria
BW-Biham
BW-Bunda
BW-Butan
MIL-Call Me by Your Name
MIL-Get Out
MIL-The Post
MIL-The Revenant
MIL-The Shape of Water
MIL-Black Panther 1
MIL-Black Panther 2
MIL-BlacKkKlansman
MIL-Blade Runner 2049
MIL-Children of Men – 1
MIL-Children of Men – 2
MIL-Children of Men – 3
MIL-Children of Men – 4
MIL-Darkest Hour
MIL-Dunkirk – 1
MIL-Dunkirk – 2
MIL-Dunkirk – 3
MIL-French Comedy
MIL-Grand Budapest Hotel – Exteriors
MIL-Grand Budapest Hotel – Interiors
MIL-Her – Mild
MIL-Her – Normal
MIL-Her – Strong
MIL-Her – Strongest
MIL-Lady Bird
MIL-No Country for Old Men – 1
MIL-No Country for Old Men – 2
MIL-Phantom Thread
MIL-Serpico
MIL-Sicario – 1
MIL-Sicario – 2
MIL-Suicide Squad – 1
MIL-Suicide Squad – 2
MIL-Suicide Squad – 3
MIL-Suicide Squad – 4
MIL-Suicide Squad – 5
MIL-The Favourite
MIL-Three Billboards Outside Ebbing Missouri
MIL-Wonder Wheel
STM-Naos
STM-Nautilus
STM-Nash
STM-Navi
STM-Negasi
STM-Nembus
STM-Norealis
STM-Nashira
STM-Nekkar
STM-Nihal
STM-Nunki
TO-Marble
TO-Matar
TO-Menkar
TO-Muscida
TO-Menkent
TO-Merope
TO-Macrux
TO-Maia
TO-Majoris
TO-Mallex
TO-Marston
TO-Megrez
TO-Merak
TO-Merga
TO-Mimosa
TO-Minkar
TO-Mintaka
TO-Miram
TO-Misam
TO-Morpheous